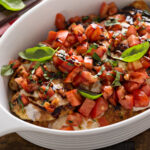 Balsamic Glazed Chicken with Roasted Vegetables
Instructions
1. Preheat your oven to 400°F (200°C).
2. In a small saucepan, combine the MJ's balsamic vinegar, honey or brown sugar, MJ's Soy sauce, MJ's Dijon mustard, minced garlic, salt, and black pepper. Bring the mixture to a gentle simmer over medium heat. Allow it to simmer for about 5-6 minutes, or until it thickens slightly. Remove from heat.
3. Place the chicken breasts in a bowl and pour half of the balsamic glaze over them. Let the chicken marinate for about 15-20 minutes.
4. Toss the assorted vegetables with olive oil, salt, and black pepper in a separate bowl.
5. Arrange the marinated chicken breasts and vegetables on a baking sheet lined with parchment paper.
6. Roast the chicken and vegetables in the preheated oven for about 20-25 minutes, or until the chicken is cooked through and the vegetables are tender and slightly caramelized.
7. During the last few minutes of roasting, brush the remaining balsamic glaze over the chicken breasts for added flavor.
8. Once cooked, remove the chicken and vegetables from the oven.
9. Garnish with chopped fresh herbs for extra aroma and flavor.
10. Serve the Balsamic Glazed Chicken with Roasted Vegetables as a delightful and flavorful main dish.
Enjoy this savory and tangy Balsamic Glazed Chicken with Roasted Vegetables!