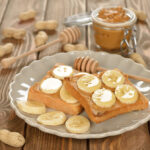 Chocito's Peanut Butter Banana Toast
Instructions
1. Toast the slices of bread to your desired level of crispiness.
2. Once toasted, spread a generous layer of peanut butter on each slice of bread.
3. Arrange slices of ripe bananas on top of the peanut butter, creating a delicious and nutritious layer.
4. If desired, drizzle a small amount of honey or maple syrup over the bananas for added sweetness.
5. If using chopped nuts, sprinkle them over the bananas for extra flavor and crunch.
6. Serve the Peanut butter Banana Toast as a satisfying breakfast, snack, or light meal.
This simple and delicious toast is a delightful combination of creamy peanut flavor and the natural sweetness of bananas!