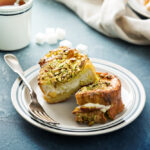 Chocito's Pistachio Cream Stuffed French Toast
Instructions
For the Pistachio Cream Filling:
1. In a bowl, combine the pistachio cream spread and cream cheese (if using). Mix well until smooth and creamy. Set aside.
For the French Toast:
1. In a shallow dish, whisk together the eggs, milk, and vanilla extract.
2. Spread the pistachio cream filling evenly onto two slices of bread. Top with the remaining two slices of bread to create two sandwiches.
3. Dip each sandwich into the egg mixture, making sure both sides are coated.
4. In a skillet or griddle, melt a bit of butter or heat oil over medium heat.
5. Place the coated sandwiches in the skillet and cook until golden brown and crispy on both sides, about 3-4 minutes per side.
6. Remove the French toast from the skillet and cut each sandwich in half diagonally.
7. Serve the Pistachio Cream Stuffed French Toast topped with sliced fresh strawberries or other berries.
Enjoy this indulgent and flavorful Pistachio Cream Stuffed French Toast as a delightful breakfast or brunch treat!