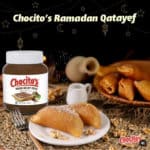 Prep Time: 15 minutes
Cook Time: 20 minutes
Print
Chocito's Ramadan Qatayef
Instructions
1 - Mix flour, semolina, baking powder, water, and blossom water in a large bowl and allow the mixture to rest for 30 minutes.
2 - Place a pan on medium heat and pour 1 scoop of the batter into it.
3 - Once golden brown, remove the qatayef and repeat the process for the rest of the batter.
4 - Once the qatayefs have cooled down, add a dollop of Chocito's Hazelnut Spread in the center and pinch the sides together to close.
5 - Sprinkle with syrup or powdered sugar and enjoy!
Allergens
Allergens