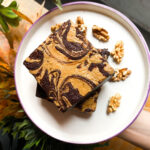 Chocito's Speculoos Swirl Brownies
Instructions
1. Preheat your oven to 350°F (175°C) and grease an 8x8-inch baking pan.
2. In a mixing bowl, combine the melted butter and granulated sugar. Mix until well combined.
3. Add the eggs and vanilla extract to the butter-sugar mixture and whisk until smooth.
4. Sift in the cocoa powder, all-purpose flour, and salt. Mix until the batter is just combined and no streaks of dry ingredients remain.
5. If using chocolate chips, fold them into the batter.
6. Pour the brownie batter into the greased baking pan, spreading it evenly.
7. Warm the speculoos spread slightly to make it easier to work with.
8. Drop spoonfuls of the speculoos spread over the brownie batter.
9. Use a knife to gently swirl the speculoos spread into the brownie batter, creating a marbled effect.
10. Bake in the preheated oven for about 20-25 minutes, or until a toothpick inserted into the center comes out with a few moist crumbs (be careful not to overbake).
11. Allow the brownies to cool in the pan for a bit before slicing and serving.
Enjoy these indulgent Speculoos Swirl Brownies with the perfect balance of chocolatey and speculoos flavors!