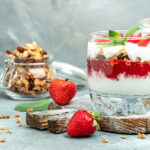 Chocito's Strawberry Cream Spread Parfait
Ingredients
Instructions
1. In a glass or bowl, layer the ingredients to create a delicious parfait.
2. Start with a layer of Greek yogurt or regular yogurt at the bottom.
3. Add a spoonful of strawberry cream spread on top of the yogurt layer.
4. Place a layer of sliced fresh strawberries over the cream spread.
5. Sprinkle a layer of granola or muesli for some crunchy texture.
6. Repeat the layers until you've used up your desired amount of ingredients.
7. If desired, drizzle a small amount of honey or maple syrup over the layers for extra sweetness.
8. Top the parfait with chopped nuts for added flavor and crunch.
9. Repeat the layering process to create additional parfaits.
10. Serve the Strawberry Cream Spread Parfait as a nutritious and delightful breakfast, snack, or dessert.
This simple yet delicious Strawberry Cream Spread Parfait is a great way to enjoy a variety of flavors and textures in one wholesome dish!