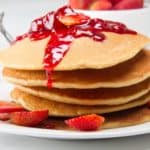 Chocito's Strawberry Pancakes
Instructions
Step 1 :
Sift in the flour, baking powder, salt and sugar.  Add in the milk, egg and melted butter and mix until smooth.
Step 2 :
Heat a lightly oiled pan over medium-high heat. Pour the batter onto the pan. Make sure the pancakes are brown on both sides before serving.
Step 3 :
Top the pancakes off with your Chocito's Strawberry spread and some freshly cut strawberries if you like.