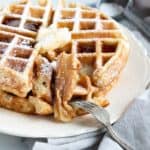 Chocito's Waffles
Instructions
Step 1 :
Mix the flour, salt, baking powder and sugar and preheat your waffle iron.
Step 2 :
In a separate bowl, mix the eggs, milk, butter and vanilla. Mix both bowls together until blended.
Step 3 :
Ladle the batter into a preheated waffle iron. Cook the waffles until golden and crisp.
Step 4 :
Drizzle and spread your favourite new Chocito's Spread and customise your waffles the way you like it!
Allergens
Allergens