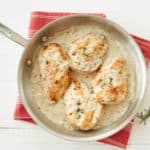 Grilled Chicken with MJ's Dijon Mustard & Yoghurt
Ingredients
Instructions
Step 1 :
Cut the chicken tender into slices.
Step 2 :
Add 5 spoons of MJ's white vinegar and keep it for 10 minutes.
Step 3 :
Add 5 spoons of vegetable oil, a teaspoon salt along, a teaspoon of Kari spices and a fresh garlic.
Step 4 :
Add a big spoon of MJ's Dijon Mustard.
Step 5 :
Add onion and fresh yoghurt.
Step 6 :
Mix with fresh coriander and wash the chicken very well.
Step 7 :
Mix it all together and grill!