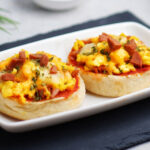 Mini English Muffin Pizzas Using MJ's Italian Pizza Sauce
Ingredients
Instructions
1. Preheat your oven to 375°F (190°C).
2. Lay out the English muffin halves on a baking sheet, cut side up.
3. Spread a spoonful of pizza sauce onto each muffin half. Use the back of the spoon to spread it evenly.
4. Sprinkle a generous amount of shredded mozzarella cheese on top of the sauce-covered muffin halves.
5. Add your preferred toppings over the cheese. You can get creative and mix and match toppings according to your taste.
6. If desired, sprinkle a pinch of dried oregano or Italian seasoning over the toppings for extra flavor.
7. Place the baking sheet with the prepared English muffin pizzas into the preheated oven.
8. Bake for about 10-12 minutes, or until the cheese is melted and bubbly, and the edges of the English muffins are slightly toasted.
9. Carefully remove the baking sheet from the oven using oven mitts.
10. Let the mini pizzas cool for a minute or two before serving.
11. Serve the mini-English muffin pizzas as a delicious appetizer, snack, or quick meal option.
Enjoy your easy and customizable mini-English muffin pizzas with MJ's Italian Pizza Sauce!