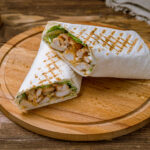 MJ's Caesar Dressing Recipe: Caesar Chicken Wraps
Instructions
1. Season the chicken breasts with salt and black pepper.
2. Heat olive oil in a skillet over medium-high heat. Cook the chicken breasts until they are cooked through, about 6-8 minutes per side. Remove from the skillet and let them rest for a few minutes before slicing.
3. Lay out the flour tortillas. Place a handful of chopped romaine lettuce on each tortilla.
4. Top the lettuce with slices of cooked chicken.
5. Sprinkle grated Parmesan cheese over the chicken.
6. Drizzle Caesar dressing over the ingredients.
7. Roll up the tortillas tightly, folding in the sides as you go, to create wraps.
8. Serve the Caesar Chicken Wraps immediately.