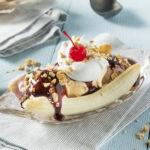 MJ's Chocolate Syrup Banana Split
Ingredients
Instructions
1. Place the split bananas in a serving dish or banana split boat.
2. Place a scoop or two of vanilla ice cream between the split bananas.
3. Drizzle a generous amount of chocolate syrup over the ice cream and bananas.
4. Top with a dollop of whipped cream.
5. If using chopped nuts, sprinkle them over the whipped cream.
6. Add a maraschino cherry or two on top.
7. If desired, sprinkle some colorful sprinkles or chocolate shavings for extra decoration.
8. Serve the Chocolate Syrup Banana Split immediately and enjoy!
This delightful dessert is a classic and can be customized with your favorite toppings and flavors.