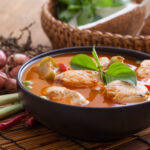 MJ's Coconut Cream Thai Curry
Instructions
1. In a large skillet or wok, heat the vegetable oil over medium heat.
2. Add the chopped onion and sauté until it becomes translucent.
3. Add the minced garlic and Thai red curry paste to the skillet. Sauté for another minute until fragrant.
4. Pour in the coconut cream and stir well to combine with the curry paste.
5. Add the mixed vegetables and protein (tofu, chicken, shrimp, etc.) to the skillet. Stir to coat them with the coconut cream and curry mixture.
6. Season with soy sauce, brown sugar or palm sugar, salt, and black pepper.
7. Simmer the curry for about 10-15 minutes, or until the vegetables are tender and the protein is cooked through.
8. Taste and adjust the seasoning as needed.
9. Once cooked, remove the skillet from heat.
10. Serve the Coconut Cream Thai Curry over cooked rice or rice noodles.
11. Garnish with fresh cilantro leaves for an extra burst of flavor.
Enjoy this creamy and flavorful Coconut Cream Thai Curry as a comforting and delicious meal!