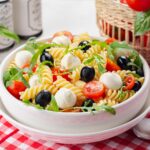 MJ's Italian Dressing Recipe: Italian Pasta Salad
Instructions
1. Cook the pasta according to package instructions. Drain and let it cool.
2. In a large bowl, combine the cooked pasta, cherry tomatoes, diced cucumbers, diced red onions, sliced black olives, and diced mozzarella cheese.
3. Drizzle Italian dressing over the salad and toss to coat all the ingredients.
4. Season with salt and black pepper to taste.
5. Refrigerate the pasta salad for about 30 minutes before serving to allow the flavors to meld.