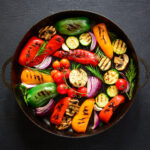 MJ's Pomace Olive Oil Roasted Vegetables
Instructions
1. Preheat your oven to 400°F (200°C).
2. In a large mixing bowl, toss the assorted vegetables with pomace olive oil. Ensure that the vegetables are evenly coated.
3. Season the vegetables with salt, black pepper, and any dried herbs you prefer. Toss again to distribute the seasoning.
4. Spread the vegetables in a single layer on a baking sheet lined with parchment paper.
5. Roast the vegetables in the preheated oven for about 20-25 minutes or until they are tender and slightly caramelized. Stir them once or twice during roasting to ensure even cooking.
6. Once the vegetables are roasted to your liking, remove them from the oven.
7. Transfer the roasted vegetables to a serving dish.
8. If desired, sprinkle grated Parmesan cheese over the vegetables while they are still warm.
9. Garnish with chopped fresh parsley or basil for a burst of color and flavor.
10. Serve the Pomace Olive Oil Roasted Vegetables as a delicious side dish or add them to salads, pasta, or grain bowls.
Enjoy these flavorful and wholesome Pomace Olive Oil Roasted Vegetables!