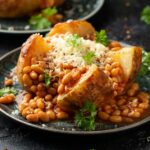 MJ's Ranch Dressing Recipe: Loaded Baked Potato Salad
Instructions
1. In a large bowl, combine the cooked and diced potatoes, sour cream, mayonnaise, chopped green onions, cooked and crumbled bacon, and shredded cheddar cheese.
2. Drizzle ranch dressing over the potato mixture and toss to combine.
3. Season with salt and black pepper to taste.
4. Refrigerate the Loaded Baked Potato Salad for about 30 minutes before serving.