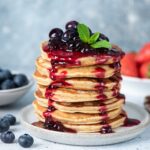 MJ's Strawberry Syrup Pancakes
Instructions
1. In a large bowl, whisk together the flour, sugar, baking powder, baking soda, and salt.
2. In a separate bowl, whisk together the buttermilk, egg, and melted butter.
3. Add the wet ingredients to the dry ingredients and gently mix until just combined. It's okay if the batter is slightly lumpy.
4. Preheat a non-stick skillet or griddle over medium heat. Lightly grease the cooking surface with cooking spray or a small amount of butter.
5. Pour about 1/4 cup of batter onto the skillet for each pancake. Cook until bubbles form on the surface, then flip the pancakes and cook until they're golden brown on both sides.
6. Remove the cooked pancakes from the skillet and stack them on a plate.
7. In a small saucepan, warm the strawberry syrup over low heat until it's heated through.
8. To serve, stack the pancakes on individual plates. Drizzle strawberry syrup over the top.
9. Garnish with sliced fresh strawberries and whipped cream if desired.
10. Serve the Strawberry Syrup Pancakes warm and enjoy!