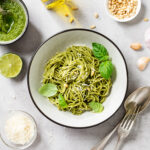 Olive Oil and Herb Pasta
Instructions
1. Cook the pasta according to the package instructions. Drain and set aside.
2. In a large skillet, heat the extra-virgin olive oil over medium heat.
3. Add the minced garlic and dried herbs to the skillet. Sauté for about 1 minute until fragrant, being careful not to let the garlic brown.
4. If you like a bit of heat, you can add red pepper flakes to the skillet for some extra flavor.
5. Add the cooked pasta to the skillet and toss to coat the pasta with the olive oil and herb mixture.
6. Season with salt and black pepper to taste.
7. Once the pasta is heated through and well coated, remove from heat.
8. Serve the Olive Oil and Herb Pasta in bowls, topped with grated Parmesan cheese (if desired) and chopped fresh parsley for a burst of color and freshness.
Enjoy this simple and flavorful Olive Oil and Herb Pasta as a quick and satisfying meal!